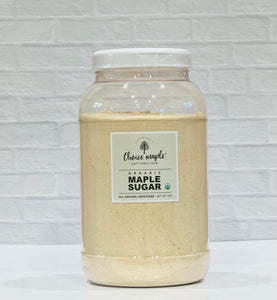 Five Pound jar of Organic Vermont Maple Sugar. 
Maple Sugar is perfect to bake with and to use as an all-natural sweetener in coffee, tea, cereals - pretty much anything that needs a little sweetening. 
To make maple sugar we boil maple syrup and then stir the sugars until they become granulated. There are no preservatives, no additives, no flavoring and no bleaching.
FREE SHIPPING!
ORGANIC. NATURAL. DELICIOUS. 
Substitute for white or brown sugar at a 1:1 ratio. 
Customer Reviews
10/11/2021
Anonymous

United States
Delicious
I have been using maple sugar cooking for 12 + years . I decided to switch it up with some maple sugar as that works better for brownies. This maple sugar is the best in taste and texture. This is my second 5 lb bag I purchased from Choice Maple this year!
Thank you so much for your kind review. We are so happy to hear you are enjoying the maple sugar! :)
09/08/2021
Betty W.

United States
Maple Sugar 5 lbs
I just received your shipment today. I haven't had a chance to try it yet. It looks beautiful!! Next to chocolate it's the best flavor in the world, and when you put the 2 together, it's incomperable :-) OK. You made me open it and try it. It's very mild - nice and fine - and DELICIOUS!!!!!!